IURIDICO team of translators, reviewers and revisers of legal texts is the only one in Poland and one of a few in the world to have been awarded certification for compliance of its services with ISO 20771:2020 Legal translation – Requirements.
ISO 20771 is the first international specialist standard designed for legal translators and their clients. It includes terms and definitions associated with this area and sets out requirements for the competences and qualifications of legal translators, reviewers and revisers and describes the core processes, resources, professional development and other requirements and issues relevant to the process of delivering high-quality legal translation services and those involved in that process.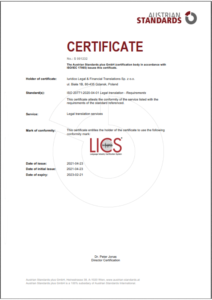 The application of ISO 20771 is also intended to enable translators of legal texts to demonstrate their professionalism and conformity of their services to the requirements of the standard, the specifications and client's expectations for a high-quality translation product.
It should be noted that an extremely important element of international translation standards, including ISO 20771, is the long-standing requirement for all specialist texts to be reviewed by a person other than a translator, but with similar competences and qualifications.
ISO 20771 can be considered individually or in the context of other translating standards. For example, ISO 17100 and ISO 20771 are intended as complementary standards – they aim to provide a general standardisation framework for translation, thus contributing to the professionalism of the industry.
The IURIDICO team has been awarded certification to both of the above standards.
ISO 20771 excludes interpretation and machine translation