Już 14 grudnia 2022 zapraszamy na LEGAL WRITING WORKSHOPS prowadzone przez Richarda Brady'ego z BRITISH LEGAL CENTRE.
Jest to pierwsze z cyklu szkoleń tematycznych z zakresu prawniczego języka angielskiego i prawa angielskiego oraz międzynarodowego, które zorganizujemy we współpracy z BRITISH LEGAL CENTRE. 
Who should attend:
🔹 Legal directors and corporate counsels;
🔹 Practising lawyers;
🔹 Legal practitioners advising international trading companies;
🔹 Business Development Managers
🔹 Business people involved in international trade.
The course will help participants improve their writing skills and approach to drafting typical commercial correspondence and documents, such as client care letters and due diligence reports. It will enable participants to write more clearly and concisely.
Participants will learn:
🔹 The basics of good writing
🔹 Rules of general correspondence
🔹 Using plain English
🔹 Planning letters and documents
🔹 Writing to assist understanding
🔹 Brevity, concision and accuracy
🔹 Avoiding legalese
🔹 The standard structure of documents
🔹 Checklists, proofreading and style of documents
LEGAL WRITING SEMINAR SCHEDULE:
09:00 – 09:15   Introductory remarks and presentation of the speaker, Introduction to Schedule 
09:15 – 10:15   Plain legal English writing techniques Part 1
(Use of the active voice, avoiding legalese, using bullet points for listing information and obligations. Presentation + exercises)
10:15 – 11:15    Plain legal English writing techniques Part 2
(Making your writing easier to understand. Use of Parallel grammar and verb structures + writing suggestions, obligations in the positive – Presentation + exercises)
11:15 – 11:30    Break
11:30 – 12:30   Correct grammar constructions – The Power of Punctuation – How punctuation changes the meaning of texts and contracts – Restrictive and non-restrictive clauses. Presentation + exercises
12:30 – 13:00   Use of Hereby – Thereby, Herewith – Therewith, etc.
Key to quickly understanding which is which + Legal meaning of some essential legal Latin terms. Presentations + exercises
13:00 – 14:00  Lunch break
14:00 – 15:00   Standard Structure of a persuasive text
The proved optimum set structure of a persuasive text for legal writing, business writing, court appeals and arbitration texts.
The most effective vocabulary to use in persuasion – Presentations + exercises
15:00 – 15:30   Making your writing interesting – 2 simple over-looked techniques to give your legal texts extra impact – Presentation with group feedback.
15:30 – 15:45   Break
15:45 – 16:45  Standard structure of different types of letters – How to layout, start, complete and finish the most common types of legal correspondence e-mail and letters. 
1. An advice letter 
2. Letter of complaint
3. Letter of apology
4. Letter before legal proceedings
Presentation + exercises
16:45 – 17:00   Q and A Session on the training topics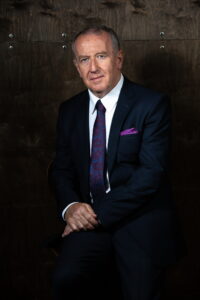 TRAINER: RICHARD BRADY
General Director: British Legal Centre
Richard Brady's initial career was as a lawyer qualifying in 1976 and then spending 8 years as a police prosecutor in Southern England before leaving to develop his own law practice in London. In 1997 Richard re-qualified as a specialist in Finance and Insurance following his experience of running a client's medical expenses insurance company in the Middle East. He then spent the next 7 years working in the City of London in banking and finance.
In 2005 he decided to leave the City of London and, after quickly qualifying as a teacher of English, began to travel around the world. He started to teach legal English and law in Eastern Europe to practising lawyers whom he had met through his law practice. Richard became aware of the opportunities for training and communication offered by new technology, and since 2008 he has been the head of the British Legal Centre.
Since 2005 Richard has specialized in teaching professional skills to lawyers and other executives, in many law, and audit companies in Europe and Asia, including Ernst & Young, Price Waterhouse Cooper's, Shoenherr's, Norr Steifenhoffer Lutz, Deloitte and Touche, Baker McKenzie, and Shalakany Law Office, as well as conducting training at legal departments of many commercial corporations in Europe and Asia. The British Legal Centre has built up a strong company presence in Brazil and Egypt and is also a partner of the Deloitte Academy of the Caucuses in Central Asia. Currently BLC courses are being integrated into the Law Degree courses of several leading Universities in the Middle and Near East.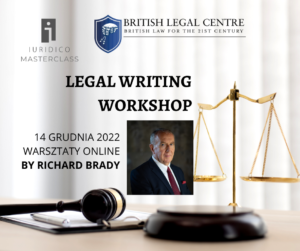 ZAPISY na PLATFORMIE KONFEO
WARSZTATY PROWADZONE BĘDĄ W FORMULE ZDALNEJ
Kontakt z organizatorem: szkolenia@iuridico.pl
KOSZT UDZIAŁU:
🔹 EARLY BIRD do 02.12.2022 – 600 zł (liczba biletów w tej cenie ograniczona do 5 szt.)
🔹 QUICK DECISION do 07.12.2022 – 700 zł (liczba biletów w tej cenie ograniczona do 10 szt.)
🔹 REGULAR do wyczerpania puli biletów – 800 zł
Polityka rezygnacji:
Uczestnik mający status konsumenta lub przedsiębiorcy-konsumenta, który zawarł umowę o udział w warsztatach może od niej odstąpić bez podania przyczyn składając stosowne oświadczenie na piśmie w terminie 14 dni od dnia zawarcia umowy (przesłania formularza zgłoszeniowego). W takim przypadku, Uczestnik jest zwolniony z obowiązku zapłaty za warsztaty. Rezygnacja z udziału w warsztatach złożona w terminie późniejszym lub nieobecność zgłoszonej osoby na warsztatach nie zwalnia z obowiązku zapłaty całości ceny za warsztaty. W przypadku, gdy warsztaty – za zgodą uczestnika – rozpoczynają się przed upływem 14 dni od daty zawarcia umowy Uczestnikowi nie przysługuje prawo odstąpienia od umowy. Obowiązująca jest pisemna forma rezygnacji z udziału w warsztatach.W przypadku podjęcia decyzji o odstąpieniu od umowy należy dostarczyć osobiście lub przesłać stosowne oświadczenie pocztą lub e-mailem do Organizatora. Nie dokonanie wpłaty nie jest jednoznaczne z odstąpieniem od Umowy (rezygnacją z warsztatów).
BRAK MOŻLIWOŚCI WZIĘCIA UDZIAŁU W WARSZTATACH Z PRZYCZYN NIE DOTYCZĄCYCH ORGANIZATORA  NIE STANOWI PODSTAWY DO ZWROTU KOSZTÓW UDZIAŁU.
W przypadku odwołania warsztatów z przyczyn leżących po stronie Organizatora, uczestnikowi przysługuje prawo zwrotu 100% kosztów uczestnictwa.
W przypadku odwołania warsztatów z przyczyn niezależnych od Organizatora, które uniemożliwią przeprowadzenie warsztatów, uczestnikowi przysługuje prawo zwrotu 100% kosztów uczestnictwa. Organizator nie ponosi odpowiedzialności za roszczenia odszkodowawcze z tego tytułu.
Dokonując rejestracji na warsztaty wyrażasz zgodę na przetwarzanie danych osobowych zgodnie z naszą POLITYKĄ PRYWATNOŚCI.